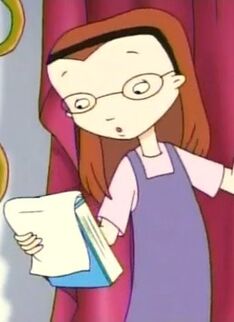 Petratishkovna "Tish" Katsufrakis, is one of the four main protagonists of Disney's animated television series, The Weekenders.
Tish was voiced by American actress, Kath Soucie.
Appearance and Personality
Edit
Physical Appearance
Edit
Tish is a very beautiful twelve-year-old girl of unspecified European heritage with long, reddish-brown hair, brown eyes, and fair skin.
Personality
Edit
Despite her beauty, Tish is the most intellectually talented out of all her friends. She finds interest in literature, science, poetry, mathematics, and the theatre and her idol is Scottish playwright, William Shakespeare.
Ad blocker interference detected!
Wikia is a free-to-use site that makes money from advertising. We have a modified experience for viewers using ad blockers

Wikia is not accessible if you've made further modifications. Remove the custom ad blocker rule(s) and the page will load as expected.