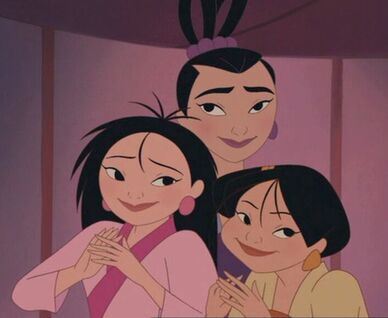 Ting-ting, Mei and Su
are the Emperor of China's three lovely daughters from Disney's 2005 direct-to-video sequel to
Mulan
,
Mulan II
. They are sent on a mission to marry the sons of Lord Chin in order to form an alliance between China and the kingdom of Qui-Gong with
Mulan
, Shang, Yao, Ling and Chien Po to safely escort the princesses. The princesses at first are okay with marrying against there will, but eventually, they fall in love with Yao, Ling and Chien Po.
Ting-Ting is voiced by Sandra Oh and her singing voice by Judy Kuhn, Mei is voiced by Lucy Liu and her singing voice by Beth Blankenship, and Su is voiced by Lauren Tom and her singing voice by Mandy Gonzalez.
Ad blocker interference detected!
Wikia is a free-to-use site that makes money from advertising. We have a modified experience for viewers using ad blockers

Wikia is not accessible if you've made further modifications. Remove the custom ad blocker rule(s) and the page will load as expected.