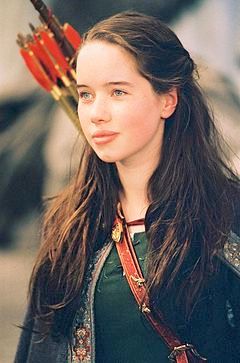 Susan Pevensie, regally known as "Queen Susan the Gentle" by the citizens of Narnia, and occasionally known as "Sue", by her siblings, is one of the main characters of Disney's 2005 live-action feature film, The Chronicles of Narnia: The Lion, the Witch and the Wardrobe, and its 2008 theatrical sequel, The Chronicles of Narnia: Prince Caspian.
Susan is the second eldest of the Pevensie children, after Peter and before Edmund. In the first film, Susan acts as a mother figure to her younger siblings Edmund and Lucy, and has a tendency to act over-mature and a bit bossy. At the end of the film, she is corronated, and becomes Queen Susan the Gentle.
In both films, Susan was portrayed by English actress, Anna Popplewell.
Ad blocker interference detected!
Wikia is a free-to-use site that makes money from advertising. We have a modified experience for viewers using ad blockers

Wikia is not accessible if you've made further modifications. Remove the custom ad blocker rule(s) and the page will load as expected.