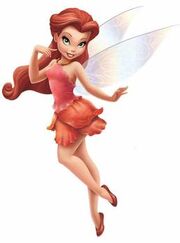 Rosetta
is one of
Tinker Bell
's fairy friends. She makes her first appearance in the Tinker Bell movies, she is a garden fairy. Rosetta is also voiced by Kristen Chenoweth. She is an official Disney fairy, a part of the Disney fairies franchise and is a meetable character at all Disney parks along with the rest of tinkerbells friends
Appearance:
Edit
Rosetta is slender but curvy, fair skinned and has green eyes. She has red curly hair that appears to be half up half down and in some photos her hair is long, but in the movie her hair sits on her shoulders. She has white fairy wings with a red tint and wears a red dress with frills. She wears red pixie shoes and has rosy cheeks and lips.
Characteristics:
Edit
Rosetta is out going, nice, charming and has a southern accent. She is gentle and fun, yet quick witted. She also loves beauty and loves to look good.
In the films:
Edit
In Tinker Bell, she is one of Tinker Bell's friend and tries to help Tinker Bell to not be a tinker, since that is her wish. But once tinkerbell finds a music box, she changes her mind.
In Tinker Bell and the lost treasure, She appears sometimes. But is more of a side character. She is at the beginning of the film. She appears again when tink and friends ask her for some pixie dust.
In Tinker Bell and the great fairy rescue, She along with Tinker Bell's other friends attempt to rescue Tinker Bell from Griffith's house.
In Tinker Bell and the Secret of the Wings. She appears again with Tinker Bell and her other friends. As they try to find out the secret of Tinker Bell's glowing wings. They are guided by a new fairy named Periwinkle. It is not stated if Periwinkle will join the fairy franchise yet.
She is known for her southern accent.
Her favourite food is Buttercup soup.
She hates mud.
Ad blocker interference detected!
Wikia is a free-to-use site that makes money from advertising. We have a modified experience for viewers using ad blockers

Wikia is not accessible if you've made further modifications. Remove the custom ad blocker rule(s) and the page will load as expected.