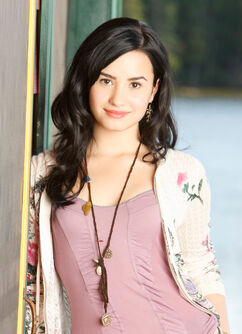 Mitchie Torress is the main protagonist of the 2008 Disney Channel Original Movie, Camp Rock, and its 2010 sequel, Camp Rock 2: The Final Jam.
Mitchie is an aspiring singer-songwriter who, after many years, gets the opportunity to go to the summer camp of her dreams; Camp Rock. However, when Mitchie meets Tess Tyler, the notorious "diva" of Camp Rock, and the daughter of an international pop star, Mitchie lies about her humble upbringing in order to "fit in" with Tess and her crew.
Mitchie was portrayed by American actress and singer-songwriter, Demi Lovato.