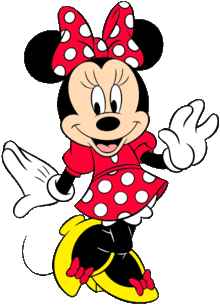 Minerva "Minnie" Mouse
 is the girlfriend of Mickey Mouse created by Walt Disney and Ub Iwerks. Minnie is a very beautiful, sweet-natured and fun-loving mouse. The comic strip story
The Gleam
by Merrill De Maris and Floyd Gottfredson first gave her full name as
Minerva Mouse
. "Minerva" has since been a recurring alias for her. She is one of Disney's most famous characters, and is often used as a logo, together with Mickey Mouse.
1928, Walt Disney created Mickey Mouse to act as a replacement for his previous star, Oswald the Lucky Rabbit. But Mickey could not fill the void alone. Among the few consistent character traits Oswald had developed before moving on to Universal Studios was his near-constant pursuit of potential sweethearts. So, for Mickey to have a chance to emulate his predecessor at flirting, someone had to replace Oswald's many love interests. This replacement to Miss Rabbit, Miss Cottontail, Fanny and an uncertain number of unnamed nurses and dancers was to become Minnie Mouse.
Minnie, who at the time was not yet named, was designed in the fashion of a "flapper" girl. She was so probably intended to follow the trends of then-current youth culture in an effort to add to her audience appeal.
Both Minnie and Mickey were first drawn in 1928 by Ub Iwerks. She first appeared in the Mickey Mouse short Plane Crazy. Minnie is invited to join Mickey in the first flight of his aircraft. She accepts the invitation but not his request for a kiss in mid-flight. Mickey eventually forces Minnie into a kiss but this only results in her parachuting out of the plane. This first film depicted Minnie as somewhat resistant to the demanding affection of her potential boyfriend and capable of escaping his grasp.