Princess Amelia Mignonette "Mia" Thermopolis Renaldi
is the protagonis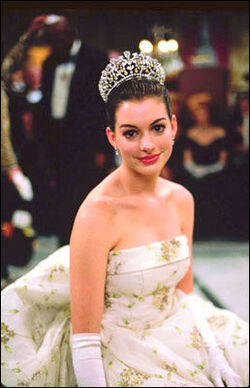 t of Disney's 2001 live-action feature film
The Princess Diaries
and its 2004 sequel,
The Princess Diaries 2: Royal Engagement
.
Due to the recent passing of her father, Prince Phillipe of Genovia, Mia, the only remaining heir to the Genovian throne, is forced by her authoritarian grandmother, Queen Clarisse, to become the next princess. However, the newly-made princess, still a teenager and high school student, must attend to her royal duties while maintaining her grades, dealing with bullies, dating, and avoiding the paparazzi.
In both films, Mia is portrayed by American actress Anne Hathaway.
Appearance and Personality
Edit
Physical Appearance
Edit
Mia is introduced as a beautiful fifteen-year-old girl with long curly brown hair (later professionally trimmed and straightened to appear more princess-like), fair skin, and brown eyes. In the sequel, she is twenty-one-years-old and a university graduate.
Personality
Edit
Mia is a free-spirited, outspoken, plucky, intelligent, and clumsy.