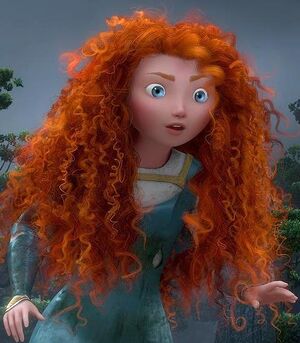 Princess Merida is the tomboyishly beautiful main heroine in the Disney/Pixar feature "Brave". Her goal is to become an archer.
She was voiced by Kelly MacDonald as a teenager and Peigi Barker as a child. Julie Fowler did her off-screen singing voice.
She is to be the first Official Disney Princess franchise to come from Pixar.
She is the first main protagonist from a Pixar film to actually be female; all leading ladies from previous ones were either deuteragonists or tritagonists, while there, all main protagonists from their films were male.
Merida joined the Disney Princess franchise and is:
The first from a Pixar film.
The first never to sing, with a small exception of one song she sings with her mother (in a different language) as a child, and with her singing voice as a teenager being in her head and never oral.
The first to have brothers (those being her younger triplet brothers, Harris, Hubert and Hamish), as Cinderella only had two stepsisters, and Ariel had six biological sisters.
The second with red hair, the first being Ariel.
The fourth to be shown with both parents alive throughout the film, the first three being Aurora, Fa Mulan and Rapunzel. Tiana doesn't quite count, as only in her childhood is her father shown alive, as he dies in World War I before she grows up.
The fourth to physically be shown as a child, the first three being Cinderella, Tiana and Rapunzel.
The first not to have a love interest.
The fourth to have a horse, the first being Cinderella (who has Major), Belle (who has Phillipe), and Mulan (who has Khan).
The second to be computer-animated, Rapunzel being the first
One out of many heroines who argue with their parents but still show them that they care.