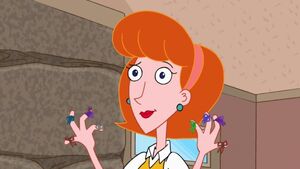 Linda Flynn-Fletcher is a secondary character from the Disney Channel animated television series, Phineas and Ferb.
She wears olive green pants and a white shirt under a yellow vest. As lindana she wears a green skirt and a pink shirt that shows her belly-button under a blue jacket. Not really a character that laughs a lot
Linda was voiced by Canadian actress and comedienne, Caroline Rhea.
Ad blocker interference detected!
Wikia is a free-to-use site that makes money from advertising. We have a modified experience for viewers using ad blockers

Wikia is not accessible if you've made further modifications. Remove the custom ad blocker rule(s) and the page will load as expected.