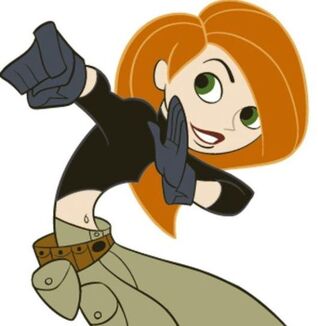 Kimberly Ann Possible
(voiced by
Christy Carlson Romano
) is the main protagonist of the popular Disney Channel animated television series,
Kim Possible
, and its two related television films,
Kim Possible: A Sitch in Time
and
Kim Possible: So the Drama
. Kim is a cute and very beautiful teenage crime-fighter/superhero who spends most of her time saving the world from villains and mad scientists (especially Dr. Drakken and his lovely and very sexy assistant, Shego) with her best friend-turned-boyfriend and sidekick, Ron Stoppable. Although Kim is a world-renowned superhero, she's a student none-the-less and must still deal with the less exciting aspects of her life, such as keeping up with schoolwork and homework, managing an entire cheer-leading squad and dating.
Appearance
Edit
Kim is an attractive teenage girl of average height with long, fiery-red hair; large, emerald-green eyes; and flawless fair skin. She wears baggy pants and a black turtleneck that shows her belly-button.
Personality
Edit
Despite her cuteness and beauty, Kim is a strong-willed, adventurous, brave, independent, headstrong, dutiful, feisty teenage girl. Having a typical type-A personality, she's a perfectionist and refuses to give up until she has completed each of her assigned tasks. In terms of school, Kim is an all-round student, excelling in both academics and athletics, specifically cheerleading. In fact, it is her cheerleading abilities (i.e. flexibility) that make her a worthy opponent when facing off against villains and evading traps.