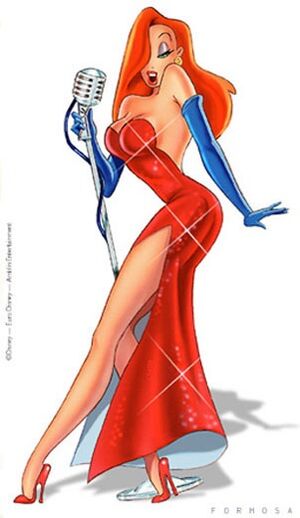 Jessica Rabbit is Roger Rabbit's human Toon wife and the tritagonist in Disney's (Touchstone's) 1988 film Who Framed Roger Rabbit. In the book, she was an amoral, up-and-coming star and former comic character, over whom her estranged husband, comic strip star Roger Rabbit, obsessed. She is re-imagined in the film as a sultry, unbearably beautiful and insanely sexy but moral cartoon singer at a Los Angeles supper club called the "Ink and Paint Club". Here, she is one of several suspects in the framing of her husband, who is a famous cartoon star. She is voiced by Kathleen Turner. Amy Irving was cast to sing Peggy Lee's "Why Don't You Do Right" for Jessica's first scene in the movie.
Several attractive Toon females (specifically Betty Boop) apparently consider Jessica to be incredibly lucky to be married to Roger.

Rose McGowan is also 1 of the Uncredited Ones to Do Her
Ad blocker interference detected!
Wikia is a free-to-use site that makes money from advertising. We have a modified experience for viewers using ad blockers

Wikia is not accessible if you've made further modifications. Remove the custom ad blocker rule(s) and the page will load as expected.