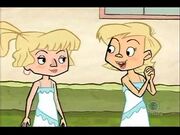 Jennifer and Claudia
 are two very beautiful blonde twin sisters who are normally seen with Sierra McCool. In the first season, a common gag in the series was for the two girls to be commenting on what they are wearing when Todd falls in a mud puddle next to them, ruining their clothes. They make their last appearance in "A Tale of Two Rileys".
Ad blocker interference detected!
Wikia is a free-to-use site that makes money from advertising. We have a modified experience for viewers using ad blockers

Wikia is not accessible if you've made further modifications. Remove the custom ad blocker rule(s) and the page will load as expected.