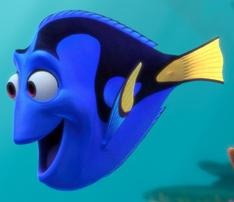 Dory is the deuteragonist of Disney/Pixar's 2003 computer-animted film, Finding Nemo.
Dory was voiced by American television personality, comedienne, and actress, Ellen DeGeneres.
Appearance and Personality
Edit
Physical Appearance
Edit
Dory is a slender, tang, surgeonfish, who has purple eyes.
Personality
Edit
Due to Dory's condition of short-term memory-loss, she can be very forgetful, dull-witted, and childish. However, due to all of her flaws, she is still very sweet.
According to director Andrew Stanton on the Audio Commentary for the Finding Nemo DVD, in the original story Dory was going to be a male character but when Stanton went home to write the script his wife was watching The Ellen DeGeneres Show and when he heard DeGeneres' voice he decided to change Dory to a female and cast her in the role to which she accepted.
It is Dory that made her species of fish popular, particularly among children.