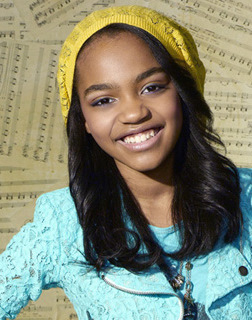 Chyna Parks is the main character of the Disney Channel's Original television sitcom, A.N.T Farm. She is the star of Webster High's Advanced Natural Talents progarm and is known for being a gifted singer and playing 17 different instruments. Surprisingly, the only instrument she can not play is the triangle, as revealed in ballet dANTser.
Apearence and Personality
Chyna is a sweet, kind hearted girl who is never afraid of a challenge.She often thinks up schemes that get her and her ANT friends, Olive and Fletcher into some kind of trouble. Despite this, Chyna always finds a solution and is always fun to be around. In season one, her hair is shown to be straight and dark brown. In season two, she is shown to have hazel colored highlights and mostly curled hair. She has light brown skin and dark brown eyes.
Chyna is portrayed by American actress and singer, China Anne McClain.
Ad blocker interference detected!
Wikia is a free-to-use site that makes money from advertising. We have a modified experience for viewers using ad blockers

Wikia is not accessible if you've made further modifications. Remove the custom ad blocker rule(s) and the page will load as expected.