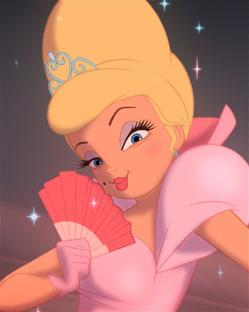 Charlotte La Bouff, also known as "Lottie", is a supporting character from Disney's 2009 animated feature film, The Princess and the Frog.
Lottie is the very beautiful long-time childhood friend of Tiana who, unlike Tiana, comes from an extremely wealthy family, and is very enthuasiastic about fairy tales, wishes, and marrying the prince of her dreams. When Prince Naveen comes to New Orleans, Charlotte instantly falls in love with him and wants to marry him to become a princess, but willingly lets him go when she sees Tiana and Naveen's love for each other.
Charlotte was voiced by American actress, Jennifer Cody.
Trivia:
Charlotte La Bouff is the second character to be best friends with a Disney Princess, the first being Nakoma from Pocahontas and Pocahontas II: Journey To a New World.
Charlotte affectionately calls Tiana "Tia", while Tiana affectionately calls her "Lottie".