Cecelia Jones
, better-known by her nickname "
CeCe
", is one of the two main characters of the popular Disney Channel television sitcom,
Shake It Up
. CeCe is best known as one of the lead dancers on the fictional dance television show, Shake it up Chicago. She is dancing partners with her best friend and fellow dancer, Rocky Blue.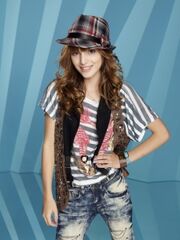 Personality and appearence
Cece is a loyal girl, mostly to her best friend and dancing partner, Rocky Blue. She is not very smart as shown in many episodes, but can suprise people with how good her ideas can be. Much like fellow Disney heroine Chyna Parks, CeCe is never almost never afraid to take risks and always likes a good challenge. Her ideas often get her and Rocky into weird and complicated situations, but she stays by Rocky's side no matter what. In season one, CeCe's hair is curled in the majority of the episodes. In season two, CeCe's hair is curled less and is straightened more often. Cece has bouncy red hair,dark brown eyes, and fare, light skin
CeCe is portrayed by American actress, singer, and dancer, Bella Thorne.
Ad blocker interference detected!
Wikia is a free-to-use site that makes money from advertising. We have a modified experience for viewers using ad blockers

Wikia is not accessible if you've made further modifications. Remove the custom ad blocker rule(s) and the page will load as expected.