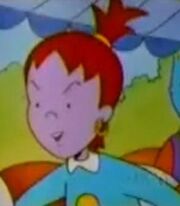 Beebe Bluff is a character from the Nickelodeon-turned-Disney series "Doug". She is stereotypically spoiled and the heiress to the Bluff family fortune. She is the daughter of Bill Bluff, the richest man in Bluffington who serves as the main antagonist of "Doug's 1st Movie". In the second series, which Disney produced, her bangs got cut. In both series, she is portrayed by the late Alice Playten. In fact, this is her last animated role, as the movie was her last film role before her death in 2011.
Ad blocker interference detected!
Wikia is a free-to-use site that makes money from advertising. We have a modified experience for viewers using ad blockers

Wikia is not accessible if you've made further modifications. Remove the custom ad blocker rule(s) and the page will load as expected.