Avery Jennings is the newest and youngest Disney Channel heroine. Avery is one out of three main characters in the newest Disney Channel comedy, Dog with a Blog. Avery is best known for wearing collared shirts with ties and for being very mature for her age.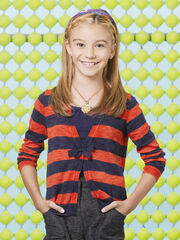 Personality and Appearence
Avery is shown to be very sassy ,witty, and demanding. She enjoys making up house rules and posting sign up sheet all around the house, which annoys her stepbrother Tyler very much. The only thing Avery truly loves is Stan because she feels she can talk to him. Slowly, she is starting to love Tyler.
Ad blocker interference detected!
Wikia is a free-to-use site that makes money from advertising. We have a modified experience for viewers using ad blockers

Wikia is not accessible if you've made further modifications. Remove the custom ad blocker rule(s) and the page will load as expected.