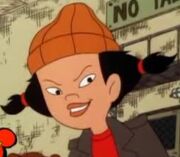 Ashley Funicello Spinelli, more commonly referred to by her last name Spinelli, is one of the main characters from the series Recess and all films based on it. She is the athletic type with black pigtails and does not go by her first name due to it being the same as a mean group called the "Ashleys." Spinelli is a cute and very beautiful tomboy and goes to wrestling camp in Recess: School's Out. She is voiced by Pamela Segall-Adlon.
Ad blocker interference detected!
Wikia is a free-to-use site that makes money from advertising. We have a modified experience for viewers using ad blockers

Wikia is not accessible if you've made further modifications. Remove the custom ad blocker rule(s) and the page will load as expected.