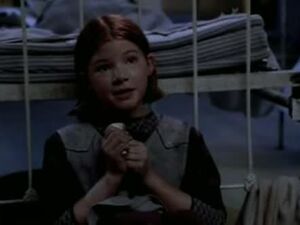 Annie is the main protagonist of the 1999 television film of the same name, though this isn't original, because this, as well as the theatrical 1982 Columbia film of the same name, is based off the Broadway musical of the same name, which was based off the comic strip "Little Orphan Annie". In the Disney version, she was played by Alicia Morton in her film debut.
She was born to David and Margaret Bennett on October 28, 1922, and they dropped her (with a locket around her neck) off at the orphanage that the merciless Miss Hannigan runs.
Ad blocker interference detected!
Wikia is a free-to-use site that makes money from advertising. We have a modified experience for viewers using ad blockers

Wikia is not accessible if you've made further modifications. Remove the custom ad blocker rule(s) and the page will load as expected.