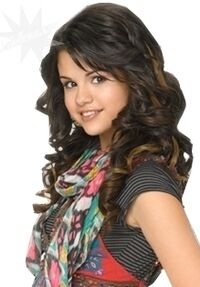 Alexandra Maragarita Russo, better-known by her nickname "Alex", is the main protagonist of the Disney Channel Original sitcom, Wizards of Waverly Place.
Alex was portrayed by American actress and singer, Selena Gomez.
Appearance and Personality
Edit
Physical Appearance
Edit
Alex is introduced as a pretty, fourteen-year-old girl with long, dark brown hair and deep brown eyes. In the second season, Alex is fifteen-years-old with longer and usually straighter hair. In the third season, Alex is either sixteen or seventeen with her hair cut to a neck-length (almost a bob) that switches between curly and straight. And in the fourth and final season, Alex, now seventeen, wears her hair long once again (especially during the last few episodes).
Personality
Edit
Alex is free-spirited, laid-back, quick-thinking, sneaky, sarcastic, stubborn,and easy-going, but is a generally kind-hearted girl. She has a tendency be rude, inconsiderate, and judgemental at times, but is in no way heartless, and has a softer, more compassionate side, especially when it comes to her long-time best friend, Harper. Even though she is a slacker in terms of schoolwork and wizard studies, and tries her best to avoid hard work at all times, Alex is dutiful and resourceful, and eventually gains a sense of responsiblity, realizing that when she messes up something it is up to her to fix it. Despite her laziness and tendency to mistreat others, she deeply cares about her family and friends, and will often go to great lengths to help them and ensure their safety (but usually needs some persuasion first).